In honor last winter and a friend spent a few days in leisure time in Jinan, Jinan three spots of course non-Thousand Buddha Mountain, Daming Lake, Baotu must go, after we settled in, the first stop is going to the sudden jump spring play.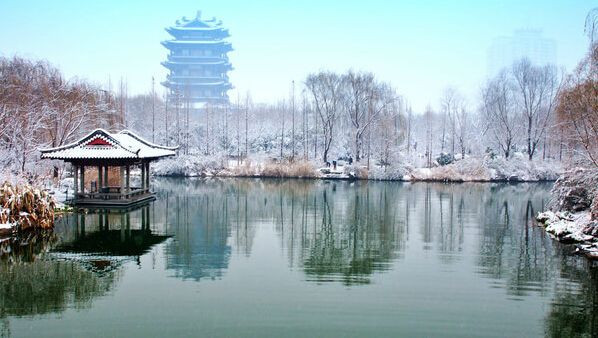 Into a garden, it is a surprise. The road across the walls, desolate winter goes as far as to isolate the North, still hanging on the willow few yellowing Egeria particularly eye-catching, see bridges the gap from the leaves of these, watching cornices, will be more some gentle charm. But no one has more willow leaves, they are docile hanging amplitude droop has just the right soft, warm light hung on the willow, clear photographs of the garden.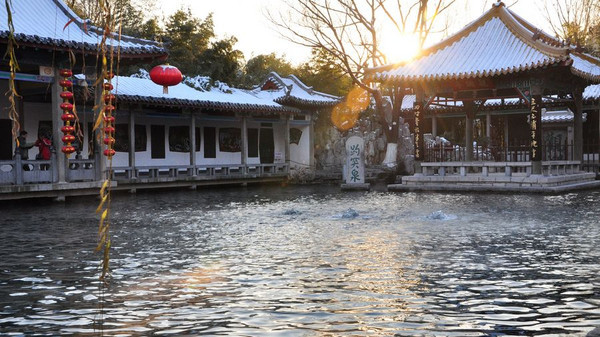 Do not need directions, just follow the stream of people going to be able to predict the near Baotu. That a pool party in front of the pool, Diaolan painting houses to fall back on its side, pavilions in the shadow of the water in the micro-Yang. "Baotu" Zeng Gong is to take the name; "Number One Spring" is the gift of Qianlong title, and countless literati poet for its strenuous pen and ink, as well as countless visitors to travel long distances just to Yidufangrong. However, this is actually fine and did not imagine the delicate, and no fancier words to rhetoric, drip fills thousands of years, it is one of the springs, either you coming or not, it is all there. When I quietly watched the Wang spring water, the more I see of the power actually have a life wrapped me, this is the Jinan spring vitality, pregnant with the city of mountains. So I thought, this garden is as it should be here, no sense of desolate. Puzzled, suddenly, we will leave sideways gait.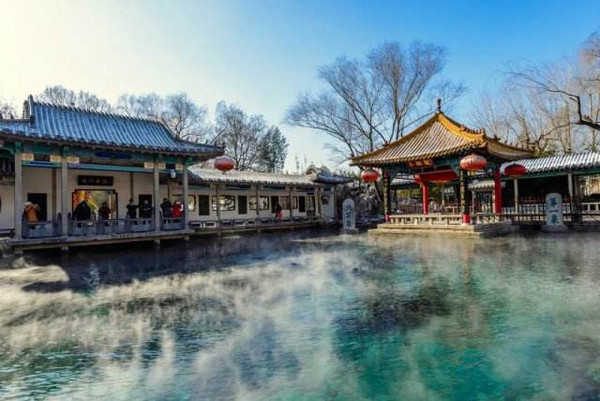 Winter, spring water is warm or cold, I do not know, just passing through my mind that I was Wang spring water fountain covered in warmth.
Eat a snack, read a beauty, then of course, eat a big meal to Jinan course, eat the most authentic local Shandong cuisine, here is my friend Yan Fu and eat a dinner meal picture of their home Shandong is the signature dish of classic dishes, stir-fried kidney, sweet and sour carp, as well as nine turn the large intestine, we have five or six people point seven or eight dishes, the store's signature dishes are ordered, easy to share with it .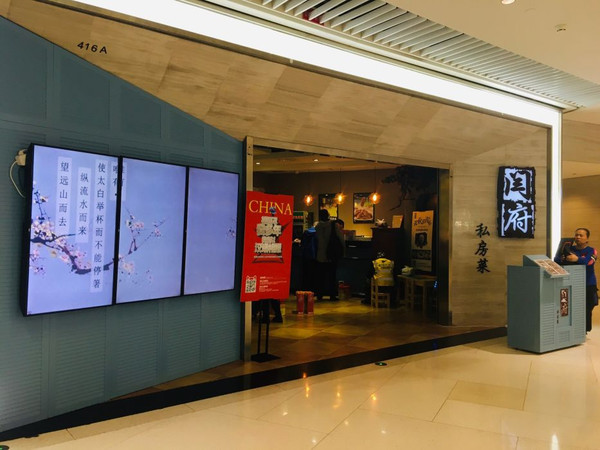 Stir kidney is said to be the store's founder Mr. Yan Lao housekeeping skills, but also the biggest test of Shandong cuisine cooking dishes, and there is no smell can kidney treatment and also to play the beautiful flower knife, no years of knowledge is unattainable. Read a lot of comments that kidney dish is sure to stir hot delicious bite, because we patronize chat camera, when tasting dishes have a little cold, would have thought it would affect the taste, but so that we are more surprised that taste still crunchy, slippery, there is no smell of pork loin, with a sweet and sour taste of yam, it's still good to eat, recommended ~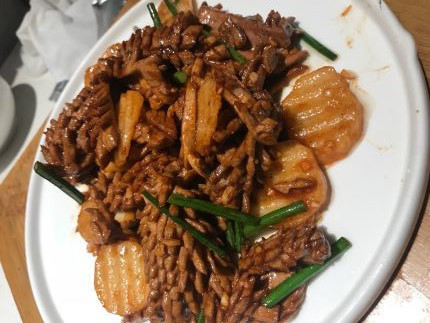 Sweet and sour carp to the waiter when we were the "carp leaping over" styling to stunning arrived, golden color big carp and last two tilt, with crystal clear sweet and sour sauce is simply mouthwatering there - we are struggling how to arrange to start when the manager to give us a hand surgeon to form a perfect whole fish cut, cut fish is also said to have a say, it is the test of skill, ha ha it seems that this dish at home is they can not do. In particular to say about Kazakhstan, the fish must be covered soup to eat, a crispy sweet, satisfying creak particularly strong.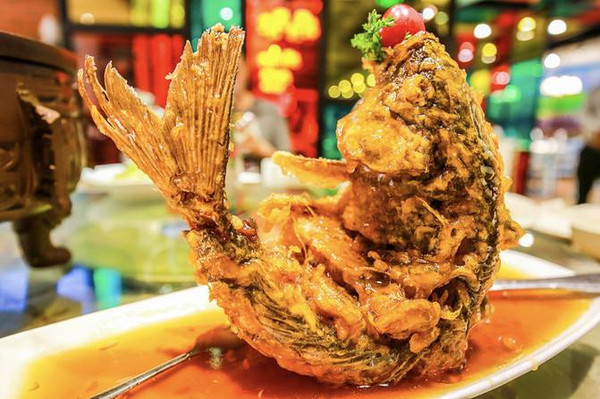 Among friends have a special love meat, see this head full of big meatballs on certain points, originally thought to be particularly greasy, did not expect a friend coaxed me to try a small mouth, even mouthful fragrance, so this road bamboo shoots dish called lion head, new dishes is their home this year, combined with the fragrance of bamboo shoots, and in the past that marked lion head completely different taste was born, I am a person ate half of it, strongly recommended that, there, the soup is also very light -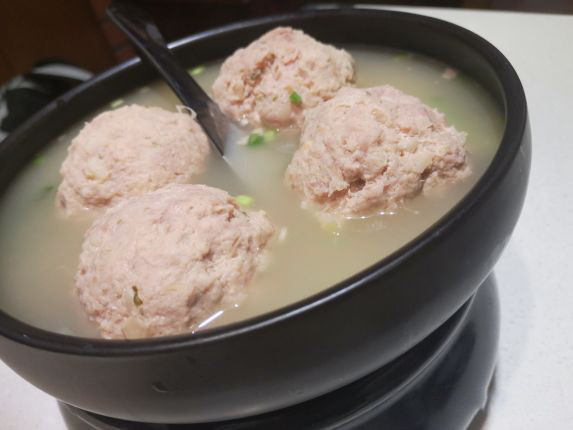 The nine turn right colon, served just when I thought it was hawthorn roll, ha ha, a joke, I love this dish decorated with love, so beautiful, especially like. Shandong people to say "pork bellies" get that pattern, a taste sensation today after a kidney, large intestine nine turn also must try, this dish is said to be very story of a dish, a relatively long history. I looked at the color is very fond of, and stir-fried kidney, just as sweet and sour taste, I have a sweet tooth, you can not help but eat a good three sections, friends have asked me to leave them. . . . The large intestine is the result of frying, look crisp and brittle, creak can imagine the kind of sound to it, ha ha I saliva has been down for understanding tired, returned to the store with a fruit plate, dish itself is actually not very greasy friends with a compote dish even more refreshing ~ ~ recommended recommended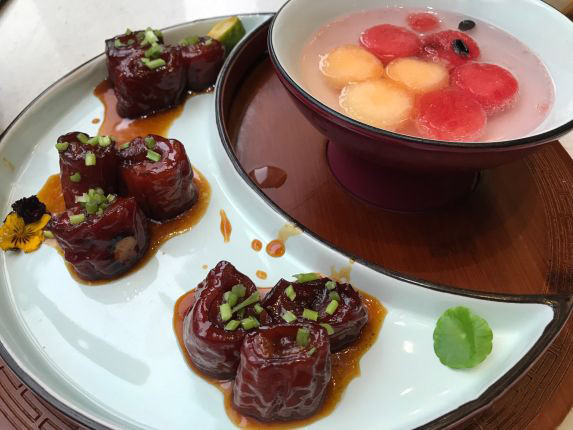 We also ordered a sweet old foam Jinan, Jinan old oil spin, feel these two match up to make breakfast may be more appropriate, oil spin exciting moment crunchy, ha ha just thought it was when they came up grasping cake yet, "not sweet sweet foam "Until confirmed, I super love peanuts inside, savory tastes waxy waxy ~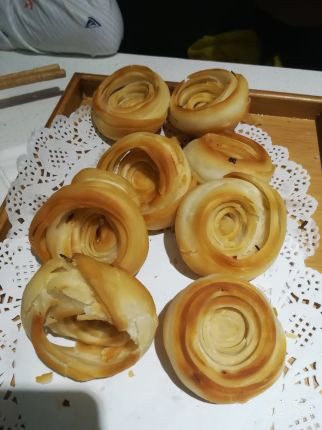 Well, today we give good friends ~ See you next time I write to you