Zhenze, I've been over two decades ago when the silk factory engaged in design work, which is a small town with well-known silk, know very well preserved old town, but each time come and gone, but to the nearby factory, has been without the free walking slowly in town. Later left the silk industry, have become rare opportunity to Wujiang, the town became my feelings people feel old silk thoughts.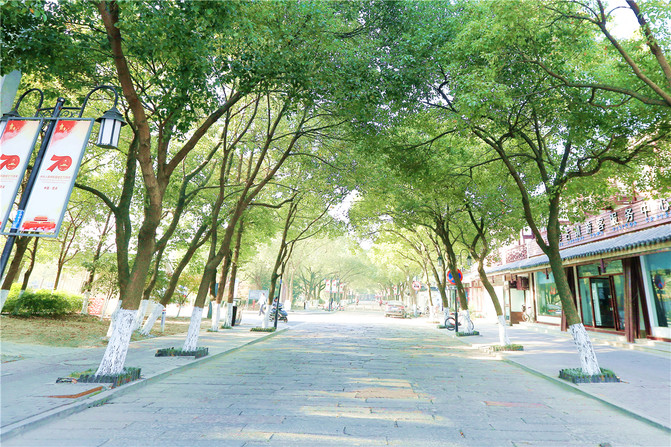 A few days ago, a friend invited me to play in Wujiang, I would say his mind, so together embark on the road of the town.
The car in the book are "zhenze town" plaque in front of St. Paul stopped walking towards where we go forward another two or three meters turned off into an alley, far from the ancient pagoda stands in front. This tower is Ciyunsi tower, built in the Wu Chi Wu, has more than 1750 years of history, is a brick body wooden eaves pavilion-style tower, 38.44 meters high tower, the appearance of a six-sided five-story, a cloister, tower wall, tower composed of heart. Tower and the monastery stand by the river, really "all sides around the lake, mid-stream tower shadow hanging." Temple side by side next to the stone arch bridge, together into my shots.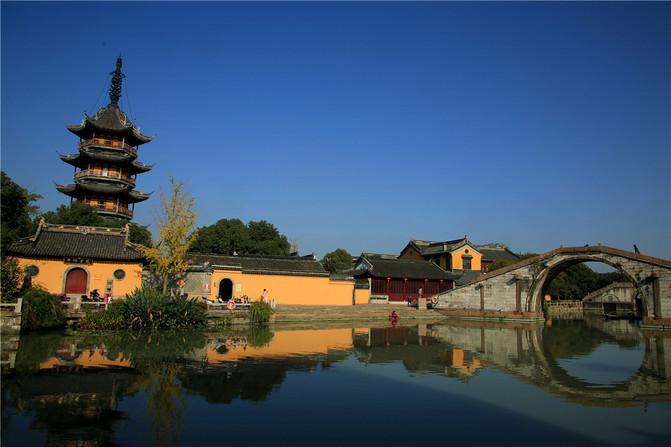 Although the town has a 4A scenic spots, the town's residents still live here, they still wash clothes in the river in twos and threes leisurely river stood idle chatter, or sitting alone in a daze, urban life time and accompanied us together.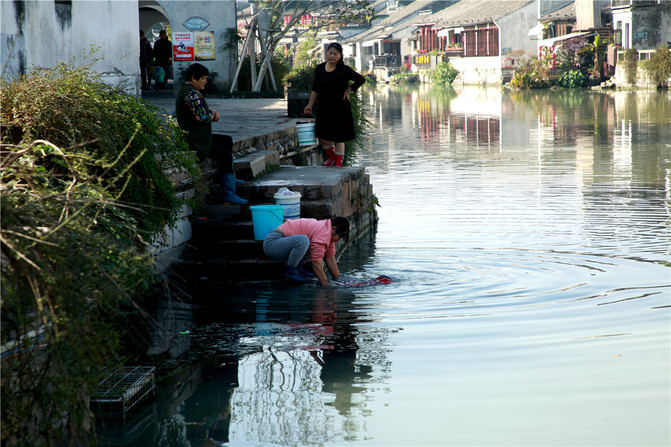 We believe the pedestrian street, see a museum of farm machinery Jiangsu Province, went into the hall, past the southern farming culture unfolding here, and some come from ancient times, while others are left not far from memory, childhood village life scenes seem fresh. I can not help the poor today's dolls, although they born in the land of plenty, long in the southern land of plenty, but do not know why a land of plenty was not even really seen the buffalo arable land, but had only find in a museum.
Silkworm spinning textile museum in the old items, reproduction zhenze ancestors silk culture, said "Zhenze silk, silk Shengze" zhenze silk is a name, although few articles here , I was able to pull back old memories. Zhenze, worthy of silk town, the town several sell silk and satin dress shop makes you feel the charm of silk.
Taihu farm food is very local characteristics, zhenze, near Taihu Lake, Taihu Lake is said to zhenze nicknames food here always show Taihu culture. China Taihu farm food culture exhibition hall can be described as a blend of various dishes, make you mouth water, a plate, a bowl bowl, although all models, still very remind people of appetite. There are ten ingredients farmhouse dining table, Jiangnan unique ingredients, three white Taihu Lake, lotus and other water chestnut gravy Brasenia Zhenze of eight dishes, etc., the pavilion at six major exhibition on display, promote "green, health, nutrition" diet concept, tradition and innovation Taihu vegetable farm.
Back in 2008, zhenze gained the "China Taihu farm food gourmet village" in the title, came zhenze, in addition to the dishes in the museum, is more important is to find a B & B to stay small, a few people sitting river, brew a cup of tea, he points a few distinctive dishes of Taihu Lake, personally enjoy. In this cool earth autumn, the river bathed in warm sunshine, a few casual talk life outside of work, and then the next two occasional game of chess, play cards, inadvertently gone by half-time.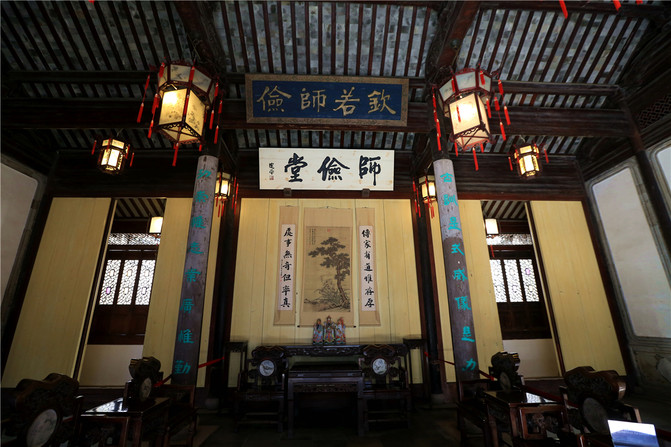 Jian Tong division of the town known as the south of the "Big House, abnormal fine old buildings become a symbol of the town. Division Jian Tong was built in the Qing Dynasty Jiaqing six years (1801), Tongzhi three years, Xuru Fu reconstruction, after another repair and expansion, here set Hebu row stack, shops, streets, halls, inner chamber, garden, in one of the lower house, pagoda Street hallway and over, can be described as built house in the street, the house contains street. this house three facing the river, can in front of the sedan chair, the back door disembark, land and water transportation.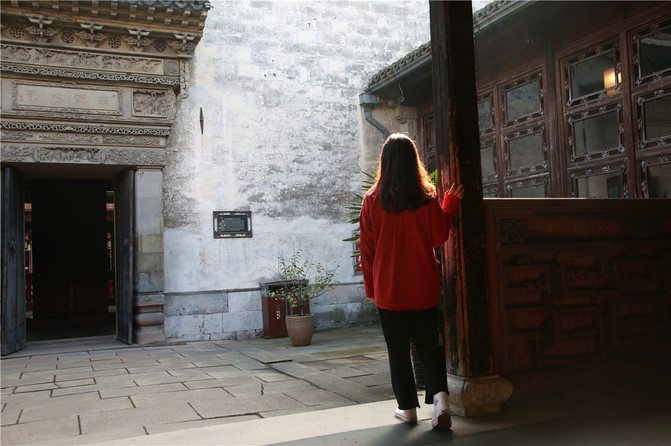 Tong Jian division covers an area of ​​2746 square meters, construction area of ​​3534 square meters, Miankuo five or six into the hallway walls deep house style building, with a combination of three axes, Composing space, creating a dignified ancient traditional Chinese style, both official Confucianism, commercial use triple function, but the hospital only half an acre and more pavilions and taste of the "garden hoe through," Tong Jian division in 1995 was included in conservation units in Jiangsu Province in 2006 was listed as national cultural heritage.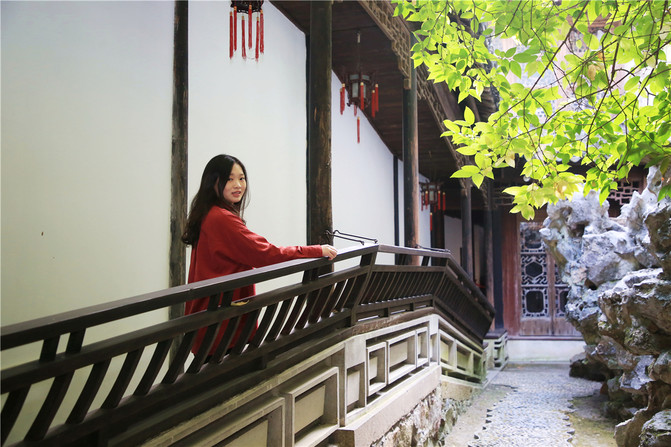 "Teacher thrifty" word source for "Historical Xiao-phase national family": "After Shixian, Division I Jian; Wu Yin not to spoil a potential home." In this life its meaning not only the name of the Church reflects the owner frugal, prudent attitude, also points out the entire division Jian Tong of style and taste. Scholar Xu's family has a distinctive feature of this Confucian temperament is also reflected in the church building garden. Since division Jian Tang Tongzhi years to rebuild, has been doing business for the Tsui family residential use, with a frugal teachings of future generations, to follow the Eastern Han Zhang Jian's ethical, "thrifty" Alex culture become heirlooms.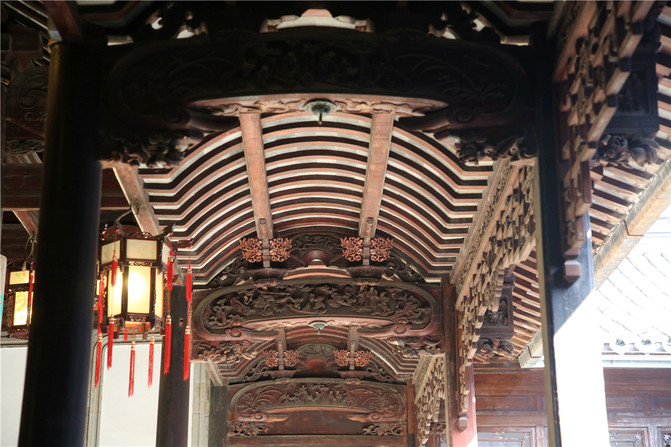 Tsz Wan Jian Tong division bomb Temple and Pagoda Street is the same at the other end of the previously mentioned, the streets of ancient Ming and Qing style buildings, mostly two, making zhenze become a financial pagoda, temple, bridges, Guxiang, old the house is a series of town street.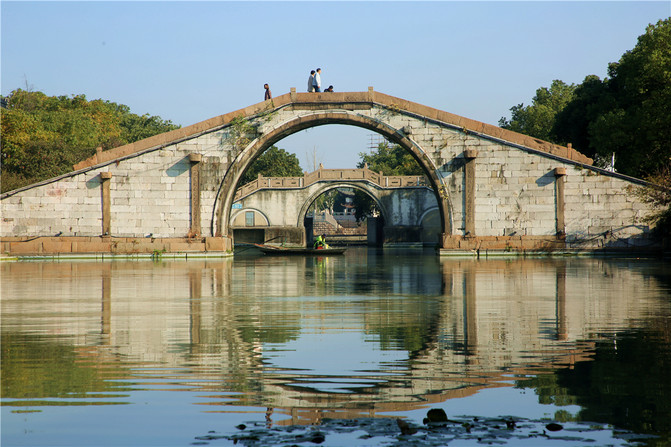 Snack on the town is also quite well known, the most famous is built in the Qing Dynasty Ren Changshun pastries and adjoining Siwan restaurant next four bowls of tea. Ren Changshun pastry shop is home to the Qing Dynasty, founded in Tongzhi three years (1864) over a hundred years old, initially only sell all kinds of rice cakes and smoked beans, tea and some local traditions zhenze refreshments, make and sell. Later on this basis, by virtue of its control of Soviet-style, the emblem of help, to help Beijing pastry making skills, the creation of Zhenze Renchang food plants, all kinds of refreshments will gradually implement mass production. The implementation of the stores here shop in front Square, now make and sell, the main production in Western-style cakes and local specialty products, such as ear cake, dry shavings, osmanthus cake, black rice cake, orange cake, Ma Bing, loquat bar, mulberry cake , smoked bean tea. Ren Changshun inherited centuries-old tradition, adhere to the mainly hand made, pay attention to the precise ratio of raw materials, the production of set victory cake, this year, boarded the CCTV "taste" section, CCTV "Chinese 3 tongue", Chinese scenery Geography and a number of television food show.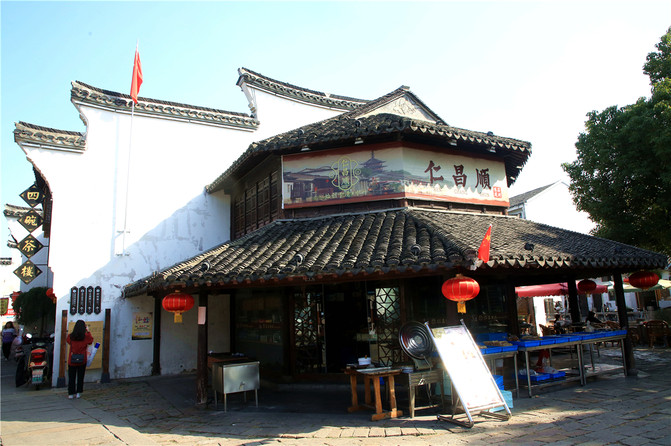 We went into Siwan restaurant, smiling proprietress meet up with us into the river seat. This is a small tea houses one of Linhe, the little store, antique, porch we sit at the table, looking at the surface of the water next to the sparkling, kindly proprietress us fetched a small dish of seeds. We idle chatter, she proceeded to tea, and soon will be holding a tray placed four bowls. Pu eggs have cooked a bowl of water, the other three bowls on-site brewing with boiling water, tea, millet rice, green beans smoked tea, green tea clear, this is a delicious local tradition for many years, it is said to rice millet tea to entertain too Yongle Emperor . Brewed tea scented with the aroma from the heat, then the boss told us about the origin of Siwan and related folklore. We listened, still tea chat, unconsciously sun sets.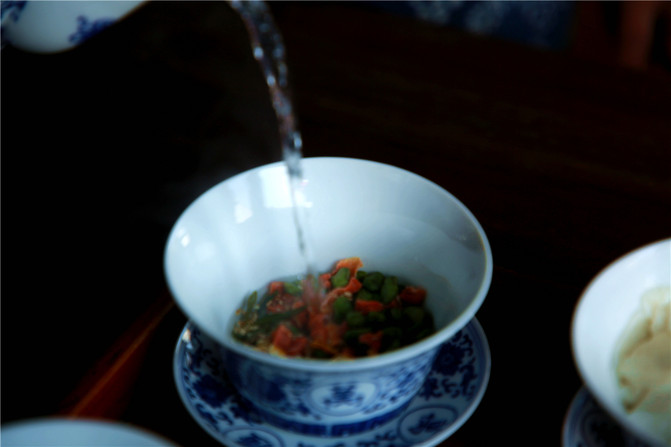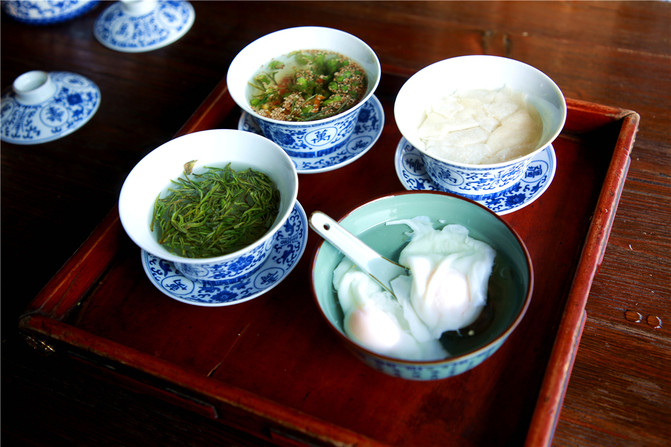 Because it is not the weekend, not too many people to town, pretty quiet, not suitable for such a bustling lively street scene, more appropriate so slowly taste, taste like a bowl of thick tea, the slower the more mellow.